Product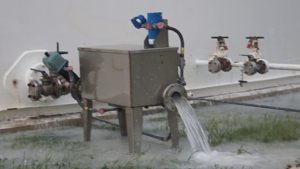 Features and Benefits
EnviroEye's patent-pending technology eliminates the need for in-person oversight with hands-free electronic monitoring. It's always on guard!
Safety Standards
Meets Hazardous Location, Class I, Division I, Explosion Proof standards outlined in NFPA 70–The National Electric Code published by the National Fire Protection Association.
Set Up and Maintenance
The external application utilizes flange connections. Installation involves positioning and leveling the interface on a concrete slab with no service interruption. Maintenance costs are minimal.

Components
Motor-operated closure valve (MOV)
Flow chamber with baffle and hydrocarbon sensor
Magnets that capture scale from tank
Control box
Override switch
Custom Options
Bypass manifold
Secondary MOV
Absorbent socks
Flashing light, modem, audible alarm and control room device interface
Battery backup (UPS)
Alternate Uses
Monitor liquid runoff from secondary retention areas.